Bollywood movie director Prabhakar Shukla is planning to make a film "Rave Party" about the British teenager Scarlette Keeling to show the people what is happening in the Goa. Scarlette's bruised and semi-naked dead body was found on the Anjuna beach on February 18. She came with her family to celebrate holiday. This is bad luck that she couldn't return back alive.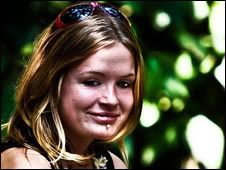 Hindustan Times reported:
The film, "Rave Party", will follow the classic Bollywood formula with comic characters, sexy girls and troupes of dancers performing kitsch routines, director of the film, Prabhakar Shukla, was quoted as saying by The Daily Telegraph on Saturday.

Shukla said he wanted to show the seedier side of India's beach paradise.
No doubt it will be a commercial movie where Bollywood movie fan can see and enjoy some dance with song where some girl will dance in a short dress.
However, her initial ruling of accidental death promoted her mother Fiona MacKeown to call for a second autopsy.
Her allegations of a nexus between drug barons, politicians and the police in Goa were denied by the local administration but highlighted lapses in investigation.
Thaindian News reported: T
he second autopsy returned a verdict of rape and murder. A third post-mortem conducted in Britain showed that Indian doctors had removed Scarlette's kidneys, stomach and uterus without informing Mackeown.
Each report contains different allegation that make Ms Fiona doubt to get which is true.
Not only in India but also all around the world, real-life cinema attracts more people for curiosity to know the truth. Director told that he got inspiration to make this movie.
TIMESONLINE reported:
Prabhakar Shukla told The Times that he would start filming Rave Party in the state of Goa, in southwest India, in July and had already approached Katrina Kaif, a Bollywood actress who was brought up in London, to play Scarlett.
Indian most attracted actress Katrina Kaif will act in the central character. The whole film is against drug abuse and the exploitation of tourist. Drug is a silly matter in India.
Scarlett's mother is upset and get mentally break. Ms Fiona is in India to collect her daughter's body parts for burial.
BBC NEWS reported:
She has said she wants to bury her daughter on her land near Bideford, North Devon, but had refused to do that until her daughter's uterus, kidneys and stomach were returned.
Ms MacKeown met with Dr V N Jindal, the dean of the Goa Medical College and Hospital, to collect her organs.
Goa is the most attractive tourist place for visitors. But Indian government doesn't take any steps for security for tourist and protest the drug dealer, ultimately it lost his attractiveness to travelers.
I hope Indian government should teach some part from this sad story.