There is a much talked about television commercial that is Shah Rukh Khan and Mahendra Singh Dhoni have become "bhai-bhai". You can ask me how? Yes, I know they are separate by birth and profession. They are also super star in their career. And you will not get anyone who doesn't know them. Not only this but also seeing them together is a great luck for their fans. If your dream is to see them together then you will have known that your dream comes true. First time, both Shahruhk Khan and MS Dhoni are coming together in a Videocon commercial in reverse role in Yash Raj Studios on November 2. Shahrukh Khan will be shown in Indian colours and MS Dhoni in a glittering gold costume.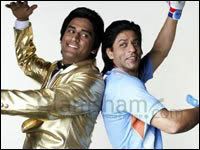 Both stars are shown in role reversals - SRK as a cricketer and Dhoni as an actor and the theme flows with an interesting plot where both play role of Bhai-Bhai in the movie.

Videocon Industries, Mr. Jyoti Shekhar, VP Marketing says, "Videocon has created magic by bringing both the super stars together on a single platform to create a unique campaign. The core idea of the campaign is to celebrate the spirit of success - no matter the role life gives you, always play it big and emerge as a champion."
Both cricket and bollywood stars were seen many times in different advertisements. But bringing both the super stars in a same platform is the first time. And no doubt, bringing them together in a same platform was not easy. However, I know most of you are eagerly waiting to see them together. Yes, you can see them in a same add quickly. This film may schedule to air in the last week of November.