Sonam Kapoor, latest star kid in Bollywood who has made a dynamic leap from assistant director to newest actress is now in the centre of all attraction. All types of media is busy to make news about this star kid like what he wants to be, what he likes etc etc. Now we can see many interview of Sonam Kapoor in many websites and new papers. In my previous article I gave you two interview of Sonam Kapoor where one was video interview that was collected from YOUTUBE.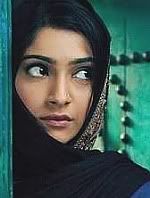 Now I have got latest interview of Sonam Kapoor where you can know many unknown thing what he didn't say ever. Like who is her favorite actor-actress, what does she do in leisure time, what she wanted to be, whom did she follow in her childhood. If you want to read the interview then go ahead and visit the link what I have given in below-
http://sify.com/movies/bollywood/fullstory.php?id=14549005&vsv=SHGTslot6 go and see what it doesn't here. You can say it is the list of Sonam's all secret things.